カテゴリ
以前の記事
お気に入りブログ
メモ帳
最新のトラックバック
検索
その他のジャンル
ファン
記事ランキング
ブログジャンル
画像一覧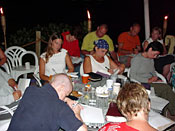 Faith, Fun & Fellowship
When is this event?

August 6th - 27th, 2007
Have you ever asked yourself
What is it that makes me truly come alive?
Are you ready to rise above your circumstances or
Do you feel you are being lived by your circumstances
and need to break out of that box somehow?
Do you sense that you are standing
on a crossroad of your life and need some fresh direction?
Is the life you live all that you hoped for?
Or are you simply tired and in need of
some genuine refreshment?
Do you want something new and fresh for your holidays?
Are you looking for both physical and spiritual refreshment?
Then this three-week 'adventure' is for you!

Why would I go?
Faith, Fun & Fellowship is held in beautiful Kelowna,
which is situated on the Okanagan Lake in B.C., Canada.
Just imagine 140 km's of water, orchards, vineyards and sun!
Gods breathtaking nature,
burden removing and yoke breaking teaching,
lots of fun on the more than 140 km long lake, and hours of rich fellowship around great food, prepared and cooked by our cooks, make for profound life changing experiences in those attending this God appointed gathering! Marriages were restored and healed. Young leaders who joined us were challenged in their calling and have gone on their way serving God. Others who served with YWAM or other ministries for years received fresh inspiration and courage to continue what God had called them to do. Again others received fresh direction for their lives. Faith, Fun & Fellowship is renowned for life changing experiences for both young and old. That is why Anne-Marie and I are so excited about this "Faith Fun & Fellowship" gathering.

What can I expect?
Powerful teaching times with themes like, "What makes me come Alive?", "Finding and Walking in Your destiny", "There is more out there", "Waking the Giant within", "You are the Prophet of your own Destiny" covered by people like Peter & Anne-Marie Helms, Gord & Jan Whyte, Peggy Christensen and others, will impact and change your life for ever. We will have times of the prophetic, creative worship sessions and soaking times that will help you to consciously become aware of the heavenly places we are seated in!

This is how it works
In the morning from 9am-12am some worship and faith building teaching, in the afternoon you swim in our 140 km's long lake, water-ski, explore Peachland, visit the many vineyards and more. In the evening we serve a gourmet style meal in our garden, take time to fellowship and hang out with each other. The weekends are free to relax and explore the Okanagan Valley, where the sun shines almost 2000 hours every year (More than in Hawaii) and where the temperatures are like in Southern France or Italy.

What are the cost?
3 weeks Incl food & lodging in a guest family or Appleseed Lodge: CAN $1050.

3 weeks Excl food & lodging: CAN $500.

In case you come for 2 weeks or less it will be CAN $200 per week excl food & lodging, which cost CAN $25 extra.

Non-Refundable Registration: CAN $30.

You will need your own pocket money for some fun things and you will need to rent a car (International driver's license needed) or use public transportation. Walking distances are very far here.

How can I apply?

(please go to )http://www.faithbuilders.eu/ministries/faith_fun_fellowship/

faithbuilders@mac.com with the heading: "Faith, Fun & Fellowship". We Look forward to hear from you!


--------------------------------------------------------------------------------

Home | Ministries | Journal | The Helms | Partners | Links | Contact
© 2006 Faith Builders. All rights reserved.